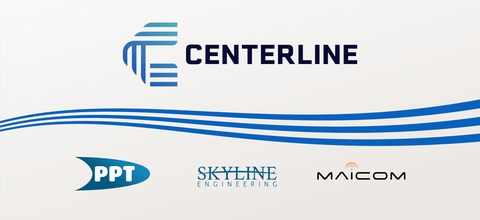 -Centerline, a leading critical infrastructure and network solutions provider, announced today that three of its subsidiary brands — Pearson Pelletier Telecom ("PPT"), Skyline Engineering ("Skyline"), and the Canadian division of Maicom LLC ("Maicom") — will unite under the name Centerline. The rebrand reflects Centerline's growing international presence.
"After announcing our broader rebranding initiative in May 2023, we continued looking for opportunities to simplify our brand architecture," said Josh Delman, founder and CEO of Centerline. "By bringing our Canadian teams under one umbrella, we will leverage Centerline's reputation for operational excellence while expanding our service offerings across North America."
A portfolio company of Audax Private Equity ("Audax"), Centerline designs, builds, and maintains next-generation wireless, wireline networks, and critical infrastructure facilities. The company has grown from approximately 300 employees to more than 1,500 over the past three years, providing turnkey services to Fortune 500 clients, including AT&T, Verizon, Comcast, and American Tower. Centerline acquired Maicom in 2021, Skyline in 2022, and PPT in 2023.
Based in Sainte-Catherine, Quebec, PPT is a wireless network and infrastructure services company that supports line and antenna projects for major Canadian telecom companies.
Maicom designs, builds, and services networking facilities and data centers throughout the United States, Canada, and the Caribbean. Services include construction management, DC power, AC power, HVAC, architectural, preventative maintenance, emergency response, and network cabling.
Skyline is a telecom-focused engineering firm based in Mississauga, Ontario.
For more information, visit Centerline's website at www.centerlinecommunications.com.
About Centerline:
A portfolio company of Audax Private Equity, Centerline designs, builds, and maintains next-generation wireless, wireline, and fiber networks, as well as critical infrastructure facilities. The company's wireless services include site acquisition, architecture and engineering (A&E), and tower construction, modifications, and maintenance. Wireline services include the design/build of critical network facilities and their supporting infrastructure (HVAC and generator) and electric vehicle charging stations. Centerline's technical services include fiber design/build, RF engineering and compliance, in-building networks, and small cell design/build. To learn more, visit www.centerlinecommunications.com.