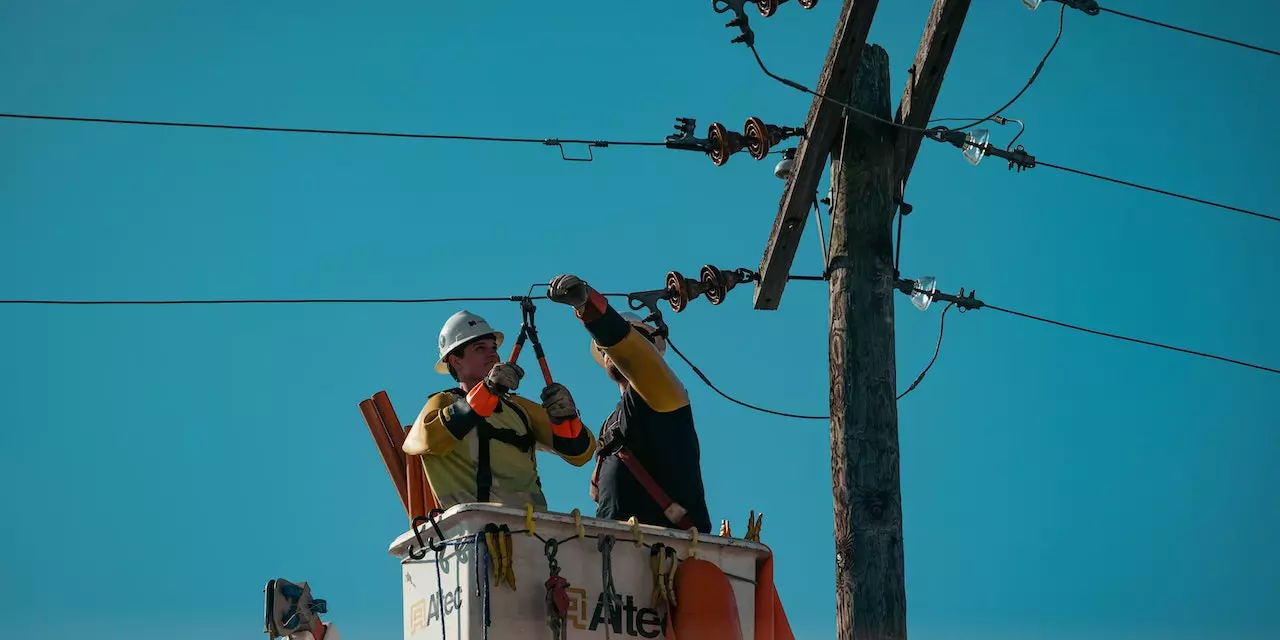 As National Lineworker Appreciation Day approaches on April 18, the Duke Energy Foundation announced a $50,000 grant to the Electrical Lineworker Program at St. Petersburg College (SPC) to help meet the energy industry's future workforce needs.
Since the program's debut in March 2021, Duke Energy and the Duke Energy Foundation have contributed more than $350,000 to develop this workforce pipeline as well as to offer access to lineworker training and job skills opportunities.
"It takes a diverse team of dedicated and talented people to power the lives of millions across our communities, often in the most difficult circumstances," said Melissa Seixas, Duke Energy Florida state president. "Lineworkers consider it a privilege to serve their communities and they love what they do."
"We are fortunate to have these passionate members on the Florida team, and we look forward to adding more," said Seixas. "Graduates of lineworker programs at our local colleges are ideal candidates for lineworker roles at Duke Energy, and we are proud to continue to support the Electrical Lineworker Program at St. Petersburg College."
Since partnering with SPC, more than 100 students have successfully completed the Electrical Lineworker Program. SPC President Dr. Tonjua Williams said the continued partnership will build the next generation of the workforce.
"Strengthening the talent pipeline exemplifies the college's vision of economic mobility," Williams said. "Without the generous contributions and continued partnership with Duke Energy, the Electrical Lineworker Program's success would not be possible."
As Duke Energy continues to launch new grid and infrastructure improvement projects to modernize, harden and technologically advance the power grid, the need for skilled workers – especially entry-level lineworkers – is also on the upswing. Lineworkers play an integral role in a more efficient, more reliable digital grid.
The company's lineworker hiring strategy is transforming to fast-track and hire more aggressively, collaborate with local community colleges to identify lineworker talent, shorten the new hire onboarding process and deploy new hires more rapidly.
The 14-week program at SPC's Allstate Center in St. Petersburg provides students with practical lineworker skills so they are job ready. The class includes certifications in Restricted Class A CDL (in partnership with Pinellas Technical College), OSHA 10 Safety Training, Bucket Truck Rescue, Pole Top Rescue, and CPR/AED & First Aid.
The Electrical Lineworker Program is made possible through valuable relationships with Duke Energy, the Pinellas County Urban League, PowerTown Line Construction, Pinellas Technical College and CareerSource Pinellas.
For more information about this program, contact Christopher Cain at 727.302.6561 or [email protected]. All interested applicants are encouraged to apply by completing a survey at stpe.co/lineworkerprogram. Once the survey is complete, applicants will be contacted about future classes that we will be conducting interviews for and filling.
Duke Energy Florida
Duke Energy Florida, a subsidiary of Duke Energy, owns 10,500 megawatts of energy capacity, supplying electricity to 1.9 million residential, commercial and industrial customers across a 13,000-square-mile service area in Florida.
Duke Energy Foundation
The Duke Energy Foundation provides more than $30 million annually in philanthropic support to meet the needs of communities where Duke Energy customers live and work. The foundation is funded by Duke Energy shareholders.
Duke Energy (NYSE: DUK), a Fortune 150 company headquartered in Charlotte, N.C., is one of America's largest energy holding companies. Its electric utilities serve 8.2 million customers in North Carolina, South Carolina, Florida, Indiana, Ohio and Kentucky, and collectively own 50,000 megawatts of energy capacity. Its natural gas unit serves 1.6 million customers in North Carolina, South Carolina, Tennessee, Ohio and Kentucky. The company employs 27,600 people.
Duke Energy is executing an aggressive clean energy transition to achieve its goals of net-zero methane emissions from its natural gas business by 2030 and net-zero carbon emissions from electricity generation by 2050. The company has interim carbon emission targets of at least 50% reduction from electric generation by 2030, 50% for Scope 2 and certain Scope 3 upstream and downstream emissions by 2035, and 80% from electric generation by 2040. In addition, the company is investing in major electric grid enhancements and energy storage, and exploring zero-emission power generation technologies such as hydrogen and advanced nuclear.
Duke Energy was named to Fortune's 2023 "World's Most Admired Companies" list and Forbes' "World's Best Employers" list. More information is available at duke-energy.com. The Duke Energy News Center contains news releases, fact sheets, photos and videos. Duke Energy's illumination features stories about people, innovations, community topics and environmental issues. Follow Duke Energy on Twitter, LinkedIn, Instagram and Facebook.
Source link: https://news.duke-energy.com/