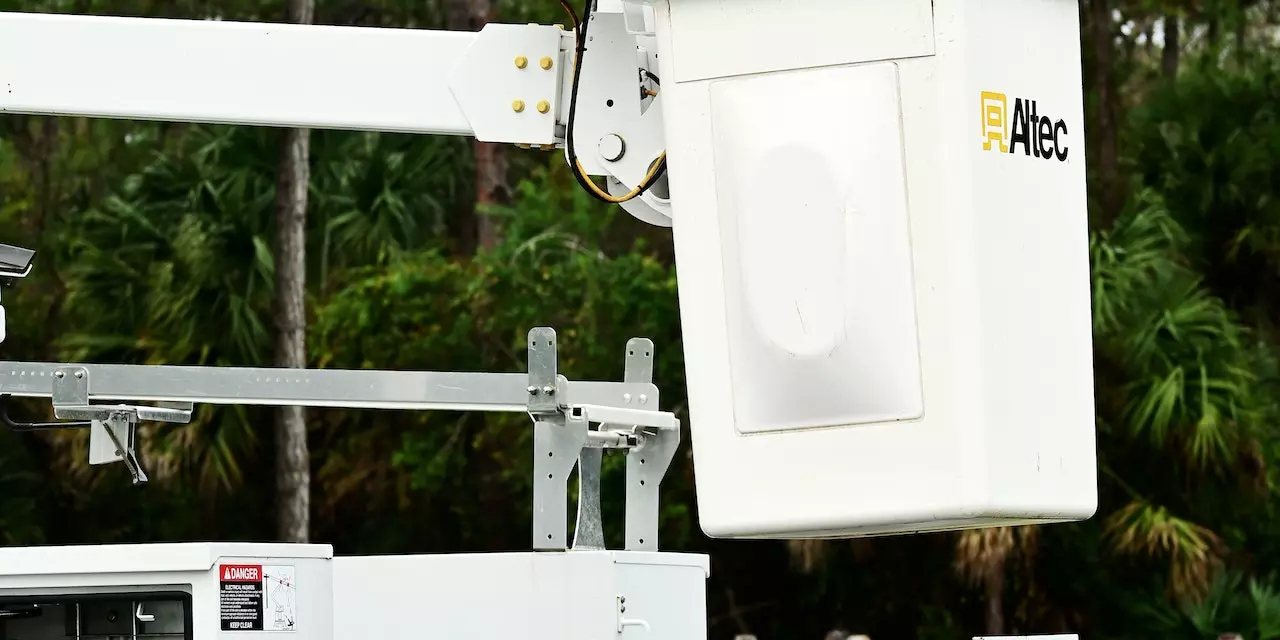 For lineworkers, weathering the storm is just another day on the job, a job critical to building the 21st century infrastructure South Carolina's economy will rely on.
As Duke Energy celebrates National Lineworker Appreciation Day, it's also important to recognize the critical role the state's technical colleges and high schools play in preparing and training the energy workforce of the future. As part of the company's ongoing support for these programs, the Duke Energy Foundation has granted $10,000 to each of the five training sites that are preparing lineworkers with the skills necessary to keep the lights on and ready the grid for a low-carbon future.
"We are transforming the energy grid – making strategic, data-driven investments to improve reliability, use more solar and clean energy and provide customers with the intelligent information they need to make better energy choices and save money, said Mike Callahan, Duke Energy's South Carolina state president. "These investments will reap benefits for many years to come, but we must increase the talent pipeline for lineworkers here in South Carolina today to build the smart-thinking power grid of tomorrow. Programs like these are absolutely critical for us to be successful in these efforts."
The grants will help provide the necessary safety equipment to students as part of their participation in these programs. Recipients include the York Comprehensive High School, York Technical College, Horry Georgetown Technical College, Tri-County Technical College and Denmark Technical College.
Over the past six years, Duke Energy and its Foundation have provided more than $2.8 million in funding to support lineworker programs in states where the company operates.
Battling storms, building the future
Ten years after the U.S. Senate passed a resolution in 2013 designating April 18 as National Lineworker Appreciation Day, the role of lineworkers is more important than ever before – in maintaining and growing energy infrastructure, protecting public safety and making sure communities have power.
"Our lineworkers continue to do the important work of 'keeping the lights on' – whether it's our transmission techs working on high-voltage transmission lines that carry electricity from power plants or our distribution techs working on the lines that carry power to homes and businesses," said Harry Sideris, executive vice president of customer experience, solutions and services for Duke Energy. "I'm proud that our line teams prioritize safety and taking care of our customers and of each other."
The more than 7,700 Duke Energy and contract lineworkers who make up the Duke Energy line team are responsible for constructing, operating and maintaining equipment and more than 300,000 miles of power lines in Duke Energy's service territories – enough to circle the Earth 12 times.
"My job comes with daily challenges and responsibilities for both my crew and me, but I take pride in safely and efficiently delivering power to our customers – so they can go about their lives with the modern conveniences that electricity provides, and that most people depend on," said Joshua Haithcock, senior journeyman lineworker originally from South Carolina who currently is with the New Bern, N.C., coastal zone workforce development crew.
Those interested in a career as an electric lineworker with Duke Energy should contact community colleges directly for more information on their specific lineworker training programs, including available funding for tuition.
A bright day to celebrate
National Lineworker Appreciation Day is April 18, but throughout the week Duke Energy will be sharing special stories in appreciation of lineworkers. Make sure to follow @DukeEnergy and visit facebook.com/DukeEnergy.
To honor lineworkers and their families on social media on National Lineworker Appreciation Day, please use the hashtag #ThankALineworker.
Lineworker b-roll and photography:
Lineworkers brighten our communities | Duke Energy | illumination (duke-energy.com)
Multimedia Gallery | Duke Energy | News Center (duke-energy.com)
Lineworker soundbites:
Duke Energy
Duke Energy (NYSE: DUK), a Fortune 150 company headquartered in Charlotte, N.C., is one of America's largest energy holding companies. Its electric utilities serve 8.2 million customers in North Carolina, South Carolina, Florida, Indiana, Ohio and Kentucky, and collectively own 50,000 megawatts of energy capacity. Its natural gas unit serves 1.6 million customers in North Carolina, South Carolina, Tennessee, Ohio and Kentucky. The company employs 27,600 people.
Duke Energy is executing an aggressive clean energy transition to achieve its goals of net-zero methane emissions from its natural gas business by 2030 and net-zero carbon emissions from electricity generation by 2050. The company has interim carbon emission targets of at least 50% reduction from electric generation by 2030, 50% for Scope 2 and certain Scope 3 upstream and downstream emissions by 2035, and 80% from electric generation by 2040. In addition, the company is investing in major electric grid enhancements and energy storage, and exploring zero-emission power generation technologies such as hydrogen and advanced nuclear.
Duke Energy was named to Fortune's 2023 "World's Most Admired Companies" list and Forbes' "World's Best Employers" list. More information is available at duke-energy.com. The Duke Energy News Center contains news releases, fact sheets, photos and videos. Duke Energy's illumination features stories about people, innovations, community topics and environmental issues. Follow Duke Energy on Twitter, LinkedIn, Instagram and Facebook.
Source link: https://news.duke-energy.com/