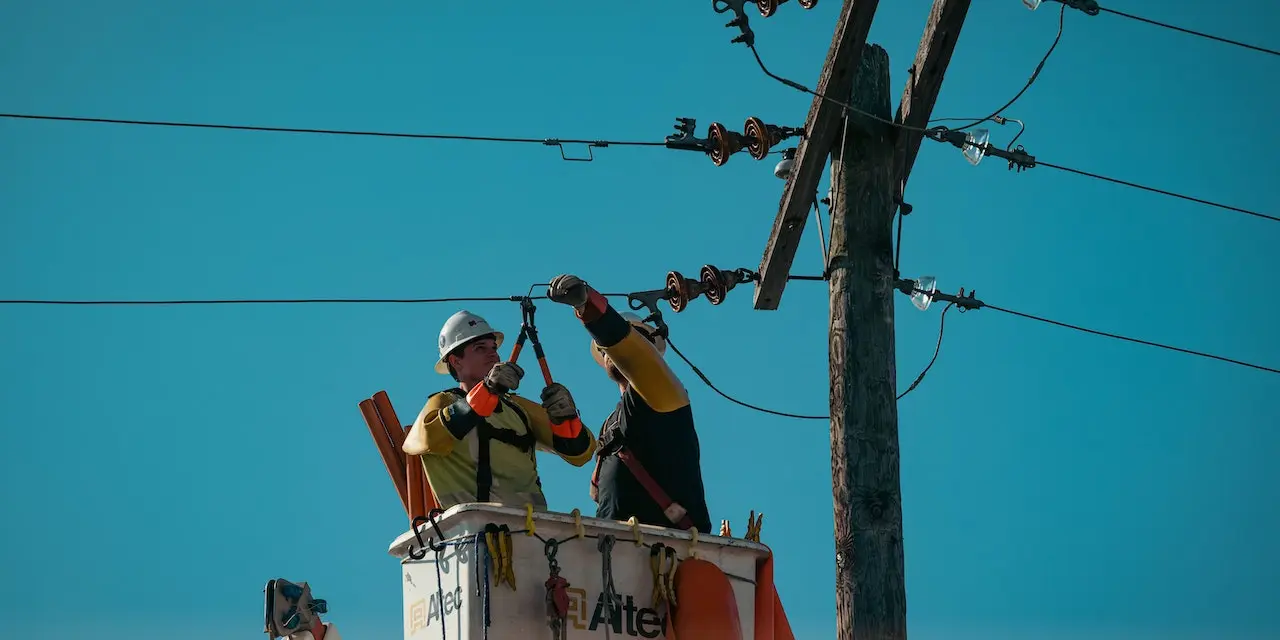 Fifteen Duke Energy lineworkers from the Midwest will compete this fall in the International Lineman's Rodeo after advancing from the Duke Energy Midwest Lineman's Rodeo in Plainfield, Ind., over the weekend.
Lineman's rodeos showcase the job-related skills that line technicians rely on daily to restore power – often under extreme conditions such as high wind, heavy rain, freezing cold and sweltering heat.
Lineman compete to score highly in equipment repair, pole climbs and hurt man rescues, and get graded for their speed, agility, technique and safety procedures. Each year, Duke Energy holds regional competitions in the Carolinas, Florida and the Midwest to qualify lineworkers for the international competition.
"Our crews' agility and depth of knowledge continue to impress me each day, but I'm even prouder of their dedication to keeping the lights on for millions of customers who depend on them," said Scott Batson, senior vice president and chief distribution officer at Duke Energy. "Safety, skills and efficiency are integral in the job of a lineworker – and Duke Energy truly has some of the best talent in the world."
High poles, top talent
Duke Energy Midwest regional rodeo winners will join lineworkers from Duke Energy rodeos in Florida and the Carolinas to compete at the International Lineman's Rodeo in Bonner Springs, Kan., on Oct. 14. For 20 years, Duke Energy lineworkers have showcased their talents at the global competition.
Duke Energy Midwest competitors advancing from regional rodeos to the International Lineman's Rodeo include:
Apprentice overall awards
First place – Oliver Huhta (Princeton, Ind.)

Second place – Logan Pollei (Rochester, Ind.)

Third place – Nick Gearhart (Carmel, Ind.)

Fourth place – Calvin Fettig (Noblesville, Ind.)

Fifth place – Tyler Adrian (Carmel, Ind.)

Sixth place – Riley Hilty (Huntington, Ind.)
Journeyman teams overall awards
First place – TJ Lewis (Aurora, Ind.), Bret Lewis (Madison, Ind.) and Nick Meyer (Madison, Ind.)

Second place – Andrew Hall (Carmel, Ind.), Jason Washburn (Noblesville, Ind.) and Cody Kennedy (Noblesville, Ind.)

Third place –Travis Vidal (Columbus, Ind.), Nick Minnich (Columbus, Ind.) and John Menefee (Columbus, Ind.)
Duke Energy Indiana
Duke Energy Indiana, a subsidiary of Duke Energy, provides about 6,600 megawatts of owned electric capacity to approximately 890,000 customers in a 23,000-square-mile service area, making it Indiana's largest electric supplier.
Duke Energy (NYSE: DUK), a Fortune 150 company headquartered in Charlotte, N.C., is one of America's largest energy holding companies. Its electric utilities serve 8.2 million customers in North Carolina, South Carolina, Florida, Indiana, Ohio and Kentucky, and collectively own 50,000 megawatts of energy capacity. Its natural gas unit serves 1.6 million customers in North Carolina, South Carolina, Tennessee, Ohio and Kentucky. The company employs 27,600 people.
Duke Energy is executing an aggressive clean energy transition to achieve its goals of net-zero methane emissions from its natural gas business by 2030 and net-zero carbon emissions from electricity generation by 2050. The company has interim carbon emission targets of at least 50% reduction from electric generation by 2030, 50% for Scope 2 and certain Scope 3 upstream and downstream emissions by 2035, and 80% from electric generation by 2040. In addition, the company is investing in major electric grid enhancements and energy storage, and exploring zero-emission power generation technologies such as hydrogen and advanced nuclear.
Duke Energy was named to Fortune's 2023 "World's Most Admired Companies" list and Forbes' "World's Best Employers" list. More information is available at duke-energy.com. The Duke Energy News Center contains news releases, fact sheets, photos and videos. Duke Energy's illumination features stories about people, innovations, community topics and environmental issues. Follow Duke Energy on Twitter, LinkedIn, Instagram and Facebook.
Source link: https://news.duke-energy.com/