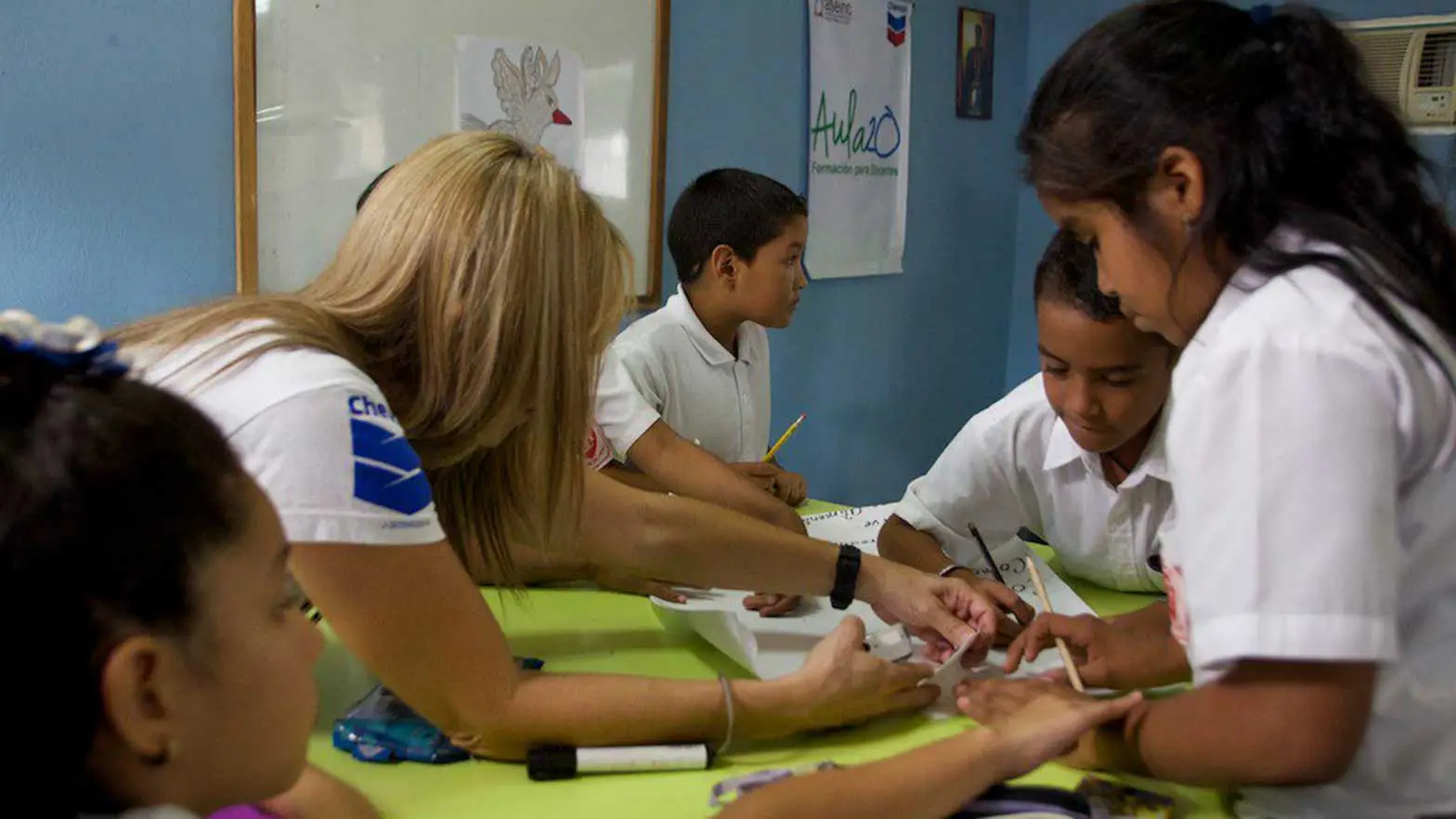 When Chevron opened its first office in Venezuela in 1923, the nation was experiencing a notable oil boom that helped propel it to be Latin America's most prosperous country at the time.
Booms and busts came and went in the ensuing decades, but one thing remained constant: Chevron's commitment to supporting Venezuela's economic and social development.
"Chevron is part of Venezuelan history," said Susana Brugada, the company's local public affairs manager. "When you go to the communities near our operations, you feel the warmth of the people that have embraced our brand."
As we mark the company's centennial anniversary in the country, we reflect on Chevron's ongoing commitment to those communities.
history lesson
Chevron's legacy company Venezuelan Gulf Oil Company registered in Venezuela on April 25, 1923, and quickly commenced operations at Lake Maracaibo, one of South America's largest lakes.
Superior No. 1, one of Venezuela Gulf's earliest wells to produce commercial quantities of oil, came in on August 31, 1924, flowing at 2,000 barrels a day.
In 1926, we drilled our first well in a newly discovered oil field in Urumaco. By 1930, the six-well field had produced 187,000 barrels of crude.
In 1946 , Chevron discovered the Boscan Field in western Venezuela, where we are still present as a partner of the national oil company Petróleos de Venezuela (PDVSA).
Today, our presence in the South American nation—home to the world's largest oil reserves—includes four oil producing assets and one offshore natural gas project in partnership with PDVSA.
a helping hand
Chevron has invested more than $115 million into Venezuela's communities over the past 15 years, focused on health, education and economic development.
The organizations we support have touched the lives of more than 100,000 people over the past few years.
health check
Chevron participates in several initiatives to improve local health care, including increasing access to safe drinking water and supporting medical equipment needs. In addition, we have:
Partnered with a nonprofit organization to offer free reconstructive cleft lip and palate surgeries for children and adults.
Supported cancer screenings and free cancer surgeries for low-income patients in remote areas.
Helped 15,000 kids fight cancer since 2004 by improving cancer wards and services.
Launched the Venezuelan Relief Initiative with donations totaling $7 million to provide relief for those in need.
We've done a lot to support local hospitals, including the nonprofit Hogar Clinica San Rafael. Along with refurbishing and equipping the hospital's operating rooms, we donated an advanced surgical C-arch X-ray equipment to aid doctors in the accuracy of orthopedic and heart procedures.
A Venezuelan pediatric cancer patient participates in a nutritional and recreational activity, part of the psychosocial support Chevron helped provide to eastern Venezuela's cancer population.
"Our alliance with Chevron at Hogar Clínica San Rafael has given us the possibility of hope—the hope of helping so many children find medical attention and surgical support. The hope reflected in the smile of a kid, who gets rehabilitated, who gets surgery, who reintegrates into society, is priceless."
brother juan padilla
hogar clínica san rafael rector
pitching in
Chevron's flagship educational program in Venezuela Aula20 was developed in remote and vulnerable areas of the country. Children and teachers at the U.E Padre Salinero Fe y Alegria school in rural eastern Venezuela are pictured in this file photo.
When natural disasters strike, Chevron has stepped up to help. In the fall of 2022, we donated $50,000 to the nonprofit Caritas de Venezuela to support relief efforts for emergencies such as the severe flooding.
"The fact that Chevron is celebrating 100 years in Venezuela makes us feel more confident about the future and the development of our country," said Janeth Márquez, executive director of Caritas Venezuela. "We celebrate Chevron's centennial of investment and its commitment to improve the quality of life of our communities through social investment projects."
Source link: https://www.chevron.com/