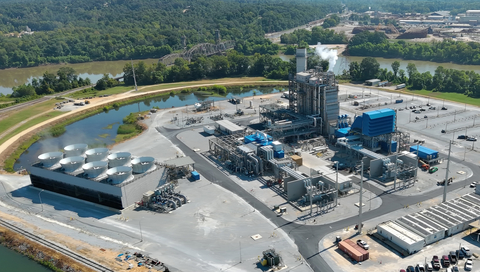 PowerSouth Energy Cooperative and Mitsubishi Power are celebrating the start of operations at the new 693-megawatt (MW) Lowman Energy Center (LEC), located in Leroy, Alabama.
The LEC, which began construction in 2020, is replacing the now-retired 556 MW Charles R. Lowman coal-fired power plant. Fully operational as of late September, the new plant is designed to support the growing energy needs of PowerSouth's distribution members in Alabama and Northwest Florida using cleaner, more efficient natural gas technology.
The LEC is a state-of-the-art combined-cycle power plant producing enough energy to supply 300,000 homes annually. The 693-megawatt (MW) power plant features Mitsubishi's most advanced air-cooled gas turbine, the M501JAC. The M501JAC gas turbine features outstanding operability, including reduced start-up time and reliable long-term performance. Mitsubishi Power will also provide service and maintenance for the turbine under a long-term service agreement.
"At maximum output, the LEC offers 693 megawatts of reliable, around the clock power that will meet the needs of our distribution members for decades," said PowerSouth President and CEO Gary Smith. "That capability is important to our enduring mission of reliability and affordability which are being challenged by a rapid push toward intermittent, renewable generation. LEC is vital to our ability to keep the lights on."
Because the LEC uses excess heat to boil water for the steam turbine unit, energy can be captured that would have otherwise been wasted. This means a more efficient plant and lower greenhouse gas emissions. "Technology in this industry is moving quickly, but we're on the cutting edge of these advances," said Smith. "We're proud to be in a position to use the latest high-efficiency technology from Mitsubishi Power to support our members and the people they serve. I am proud of this project and what we accomplished together."
"The Lowman Energy Center is yet another example of how cooperatives and utilities alike are recognizing the need for advanced, cleaner power generation technology to meet the needs of their members and customers," said Bill Newsom, President and CEO, Mitsubishi Power Americas. "At Mitsubishi Power, we have the technology to support this transition and we thank PowerSouth for choosing us for this important project."
LEC joins PowerSouth's portfolio of reliable generating facilities operating with natural gas, including the McIntosh Plant (McIntosh, Alabama), McWilliams, and Vann (both in Gantt, Alabama).
About PowerSouth Energy Cooperative
PowerSouth is a generation and transmission cooperative that serves the wholesale energy needs of 16 electric cooperatives and four municipal electric systems in Alabama and northwest Florida. Collectively, the members provide electric service to homes, businesses and industries in 39 Alabama and 10 Florida counties.
About Mitsubishi Power Americas, Inc.
Mitsubishi Power Americas, Inc. (Mitsubishi Power) headquartered in Lake Mary, Florida, employs more than 2,700 power generation, energy storage, and digital solutions experts and professionals. Our employees are focused on empowering customers to affordably and reliably combat climate change while also advancing human prosperity throughout North, Central, and South America. Mitsubishi Power's power generation solutions include gas, steam, and aero-derivative turbines; power trains and power islands; geothermal systems; PV solar project development; environmental controls; and services. Energy storage solutions include green hydrogen, battery energy storage systems, and services. Mitsubishi Power also offers intelligent solutions that use artificial intelligence to enable autonomous operation of power plants. Mitsubishi Power is a power solutions brand of Mitsubishi Heavy Industries, Ltd. (MHI). Headquartered in Tokyo, Japan, MHI is one of the world's leading heavy machinery manufacturers with engineering and manufacturing businesses spanning energy, infrastructure, transport, aerospace, and defense. For more information, visit the Mitsubishi Power Americas website and follow us on LinkedIn.
Source link: https://www.businesswire.com/