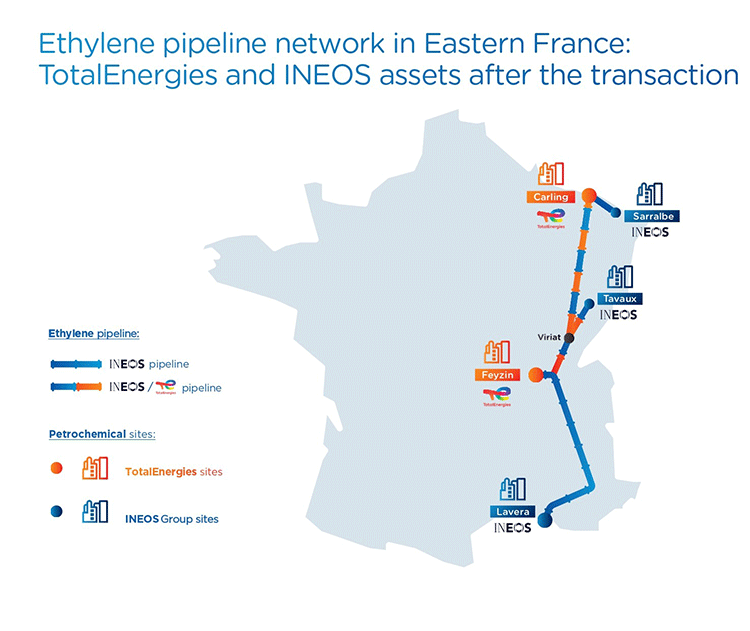 TotalEnergies and INEOS have signed agreements to realign their respective stakes in their production assets and logistics infrastructure to better reflect the balance between their production and internal use of ethylene in eastern France. For TotalEnergies, this exchange of interests supports the integration between its petrochemical sites at Feyzin, near Lyon, and Carling in eastern France, while INEOS strengthens its operations at the Lavéra site on the Mediterranean coast.
Realigning the two companies' interests to improve integration
The companies' sites that produce and use ethylene in eastern France are connected by a pipelines and storage network that begins at Lavéra in south-eastern France and passes through Feyzin to Carling in the north-east.
However, TotalEnergies does not itself use its share of production from the Lavéra steam cracker, which is equally (50/50) owned with INEOS, and sells it mainly to INEOS.
In order to realign the companies' production and internal use of ethylene, TotalEnergies will therefore sell its stake in the Lavéra assets to INEOS, in addition to part of its interests in the Eastern France ethylene pipeline and storage network, which TotalEnergies will continue to operate.
TotalEnergies reaffirms the key role of the Feyzin petrochemical platform
Within TotalEnergies, the Company is thus consolidating the key role of the Feyzin petrochemical platform as the integrated supplier of ethylene to the Carling platform.
The agreement will have no operational impact on TotalEnergies' refining and petrochemical sites.
"This operation allows us to strengthen the links between our Feyzin and Carling petrochemical sites, with Feyzin becoming Carling's integrated ethylene supplier, in line with our strategy to focus on our integrated platforms," said Jean-Marc Durand, Senior Vice President, TotalEnergies Refining Base Chemicals Europe.
The implementation of this project is subject to the prior consultation process of employee representatives and the approval from the relevant authorities.
Source link; https://totalenergies.com/