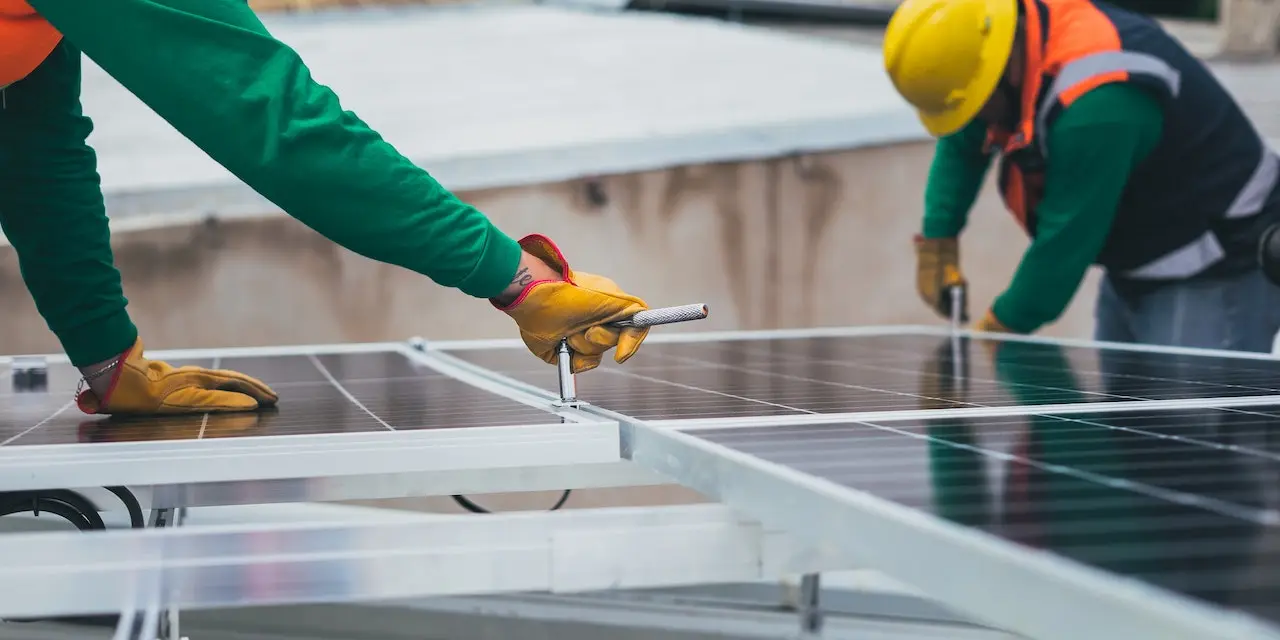 Duke Energy customers in Northern Kentucky are benefiting from additional clean, renewable solar energy as a result of a new utility-scale rooftop solar project now generating power for area homes and businesses.
Kentucky's largest rooftop solar array operates over 5,600 photovoltaic panels on the 800,000-square-foot Amazon Air Hub rooftop adjacent to the Cincinnati/Northern Kentucky International Airport. This Duke Energy facility will feed up to 2 megawatts of solar power directly onto the electric distribution grid, energizing approximately 400 homes and businesses in the area.
"Duke Energy Kentucky has gained a great deal of experience in owning and operating ground-mounted solar since 2017," said Amy Spiller, president, Duke Energy Ohio and Kentucky. "Located in one of the fastest-growing counties in the Commonwealth, this new rooftop solar site will complement our emerging solar portfolio in the Bluegrass State."
Duke Energy Kentucky is making cost-effective incremental additions to its existing electric generation to support growth across the region and ensure Northern Kentucky customers benefit from clean, affordable and reliable energy for many years to come. Among many benefits, the rooftop solar project aligns with Duke Energy's companywide goal to achieve net-zero carbon emissions and provide a cleaner and smarter energy future for customers and communities.
This new solar project is a joint partnership between Amazon and Duke Energy, aligning with both companies' renewable energy goals. The location on Amazon's Air Hub is ideal for many reasons, including a substantial and accessible flat roof, which receives optimal sunlight, and it is near the infrastructure needed to feed the solar energy onto the distribution grid, and then to nearby customers.
"Powering our operations with 100% renewable energy is an important part of Amazon's commitment to reach net zero by 2040, and we built Amazon's Air Hub – the largest field operation in Amazon's history – with sustainability in mind," said Chris Roe, Amazon director of energy and sustainable operations. "We're excited to host this solar project on our rooftop in collaboration with Duke Energy, and help provide a new source of clean electricity to the local community."
Duke Energy Kentucky's other solar sites in Grant and Kenton counties
Walton Solar Power Plants 1 & 2 are located on a 60-acre property on York Road in Kenton County. Duke Energy operates about 19,000 solar panels at the site, which are capable of producing more than 4 megawatts of electricity.
Crittenden Solar Power Plant is located off I-75 in Grant County on portions of a 110-acre site on Ruark Road. This solar array includes about 12,500 panels, and is able to generate more than 2.7 megawatts of electricity.
Duke Energy Ohio/Kentucky
Duke Energy Ohio/Kentucky, a subsidiary of Duke Energy, provides electric service to 900,000 residential, commercial and industrial customers in a 3,000-square-mile service area, and natural gas service to 550,000 customers in a 2,650-square-mile service area, in Ohio and Kentucky.
Duke Energy (NYSE: DUK), a Fortune 150 company headquartered in Charlotte, N.C., is one of America's largest energy holding companies. Its electric utilities serve 8.2 million customers in North Carolina, South Carolina, Florida, Indiana, Ohio and Kentucky, and collectively own 50,000 megawatts of energy capacity. Its natural gas unit serves 1.6 million customers in North Carolina, South Carolina, Tennessee, Ohio and Kentucky. The company employs 27,600 people.
Duke Energy is executing an aggressive clean energy transition to achieve its goals of net-zero methane emissions from its natural gas business by 2030 and net-zero carbon emissions from electricity generation by 2050. The company has interim carbon emission targets of at least 50% reduction from electric generation by 2030, 50% for Scope 2 and certain Scope 3 upstream and downstream emissions by 2035, and 80% from electric generation by 2040. In addition, the company is investing in major electric grid enhancements and energy storage, and exploring zero-emission power generation technologies such as hydrogen and advanced nuclear.
Duke Energy was named to Fortune's 2023 "World's Most Admired Companies" list and Forbes' "World's Best Employers" list. More information is available at duke-energy.com. The Duke Energy News Center contains news releases, fact sheets, photos and videos. Duke Energy's illumination features stories about people, innovations, community topics and environmental issues. Follow Duke Energy on Twitter, LinkedIn, Instagram and Facebook.
Source link: https://news.duke-energy.com/