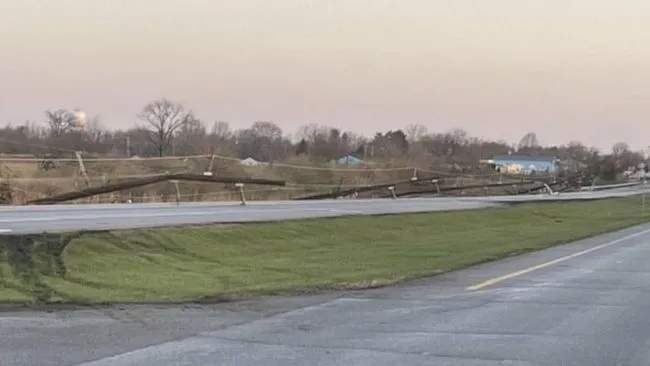 Duke Energy has restored power to more than 61,000 customers who were affected by the severe and damaging storms that moved through Indiana Friday as well as persistent high winds Saturday. Approximately 70,000 were affected by outages, and approximately 9,200 remain out of service as of 8:30 a.m. Sunday.
"The outage numbers don't tell the story, however, of the damage we are seeing," said Brian Liggett, Duke Energy vice president of zone operations. "We have identified more than 200 broken or damaged poles along with a considerable amount of spans of wire down. Our hearts go out to those affected by this storm, and our crews are working diligently to restore power in impacted communities as safely and quickly as possible."
Duke Energy has brought in contractors to supplement its local workforce and speed power restoration. The company also has moved crews from its less affected areas to help in those that are hard-hit.
The company expects to continue to restore more service throughout the day and evening. Duke Energy anticipates having nearly all customers restored by midnight Sunday. Extended outages may be possible, however, in the hardest hit areas where the damage is especially severe.
Power is expected to be restored to Duke Energy customers in the following communities by noon today: Lafayette and Wabash.
Power is expected to be restored to Duke Energy customers in the following communities by midnight tonight: Clinton, Kokomo, Terre Haute, Bedford, Bloomington, Columbus, Madison, Seymour, Shelbyville and Vincennes.
Power is expected to be restored to Duke Energy customers in the following communities by 6 p.m. Monday: Franklin, Martinsville and Sullivan.
Estimated power restoration times indicate the latest time that the company expects to restore power in a given area. However, power for many customers in that area will be restored sooner.
Customers can receive text, phone or email alerts. Learn how to sign up at outage alerts. Customers can stay informed by texting REG to 57801.
Power restoration process
Duke Energy focuses on restoring power in a sequence that enables power restoration to public health and safety facilities and to the greatest number of customers as safely and quickly as possible. Click here for information on how Duke Energy restores power.
How to report power outages
Customers who experience a power outage can report using any of the following methods:
Visit duke-energy.com on a desktop computer or mobile device.
Use the Duke Energy mobile app (download the Duke Energy App on your smartphone via Apple Store or Google Play).
Text OUT to 57801 (standard text and data charges may apply).
Call Duke Energy's automated outage reporting system at 1.800.343.3525.
Important safety tips
Duke Energy urges customers to avoid all downed power lines and assume they are energized. Downed lines should be reported to .
If a power line falls across a vehicle that you're in, stay in the vehicle. If you MUST get out of the vehicle due to an immediate life-threatening situation, do your best to jump clear of the vehicle and land on both feet. Be sure that no part of your body is touching the vehicle when your feet touch the ground.
More tips on what to do before, during and after a storm can be found at duke-energy.com/safety-and-preparedness/storm-safety.
Duke Energy Indiana
Duke Energy Indiana, a subsidiary of Duke Energy, provides about 6,300 megawatts of owned electric capacity to approximately 890,000 customers in a 23,000-square-mile service area, making it Indiana's largest electric supplier.
Source link: https://news.duke-energy.com/