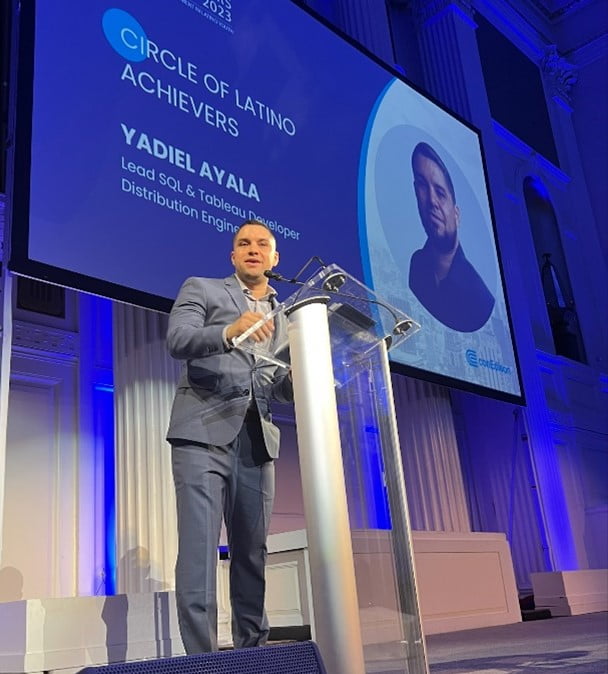 A Bronx resident and Con Edison engineer who inspires colleagues with his passion for learning and dance, has earned an award for sharing his love of Puerto Rican culture. Omar Ayala, 'Yadiel' as he likes to be called, received the 2023 ASPIRA Circle of Achievers Award.
Ayala has been with Con Edison for 15 years, challenging others to think outside the box. Ayala develops, builds and maintains data bases and user-friendly dashboards that provide information on reliability, efficiency and cost effectiveness to help employees make better decisions.
Yadiel Omar Ayala receives the ASPIRA award last night.
Ayala, a proud member of the Puerto Rican community, has deep cultural roots. Growing up he divided his time between New York and Puerto Rico where most of his family still lives. Ayala credits his love of salsa music and dancing to the influence of New York's Puerto Rican community and his strong family ties.
Ayala comes from a long line of educators – five aunts and two uncles on his mother's side alone. Through teaching dance, he shares his culture with the Con Edison community.
"Yadi's contribution to Con Edison through his teachings has been imperative in allowing our Latin community to stay connected through movement and teamwork," said Elvimar Rivas, a senior systems analysist for Con Edison and 2022 ASPIRA award winner. "His teachings help us reduce stress, release tension and worries."
"He creates an inclusive space open to all regardless of age or level of ability," Rivas said. "His teaching style is energetic, but kind, and always leaves us with a smile and wanting more. Salsa dancing with Yadi has allowed our Con Edison community to come together in movement to better our health, mental wellness and build comradery."
Ayala, a salsa dancer for 15 years, has danced "On 2", a style of salsa commonly referred to as "New York Salsa." For a time, Ayala danced competitively and performed for salsa artists at various musical venues.
Ayala has taught salsa to fellow employees for eight years. He has helped them gain confidence, raise their mood, move their bodies and network in a safe space. To make the classes accessible Ayala offered them virtually for the first time this past winter.
It was the sound of the trombone in his favorite song "Otra Oportunidad" by Jimmy Bosch that sparked his interest in dance and the trombone. Ayala is currently studying to play the trombone as well as the bongo and cow bell, all important instruments in salsa music.
Before joining Con Edison in 2008, Ayala put his love of math to work teaching high school math and physics. Later he became an adjunct professor at Hostos Community College. He readily gave up his free time to tutor students who needed some extra help.
Ayala earned a bachelor's degree in mathematics with a minor in physics from Lehman College and a master's degree in mechanical engineering from City College of New York.
About ASPIRA
ASPIRA of New York has been at the forefront of providing educational and leadership development opportunities to Latino youth since 1961. Their mission is to foster social advancement within the Latino community by supporting young people pursuing educational excellence through leadership development activities and programs. The annual Circle of Achievers event raises funds, recognizes corporate achievers, who make a difference in their companies and within the Latino community, as well as, awarding college scholarships to deserving ASPIRAntes.
Source link: https://www.coned.com/